Gold Chains for Jewelry
No limits to creativity
We are a professional and one of the largest gold chains manufacturers in the world. We produce and supply different types of chains in gold and silver to give jewelry designers a wide choice that does not limit their creativity.

Fold over chains are made from a simple sheet which is then processed by high technology machines in order to create different forms. The Fold Over Chains family includes a group of five major types: Korean Chains, Tulip Chains, Cube Chains, Fish Scale Chains and Rat Tail Chains or as more commonly named, Snake Chain. These Findings are ideal for making bracelets and necklaces.

The Beads Chains are one of the our most sought after products. We have designed machines capable of creating different designs refined and trendy fun patterns, in order to help jewelry manufacturers to create their finished jewelry with this type of chain for every type of customer. Beads Chains includes: Bead Chain with Diamond Cutting, Multiple Row Bead Chains, The Cubic and Round Bead Chains, Bead and Barrel Chain. Since 2013 we have introduced the innovative Elastic Ball chain made using Silicone. It represents the first chain that has the characteristics of a simple elastic stretch bracelet but with the strength and soundness of a metal chain.
Download here the 2022 FAOR Product Catalogue. The WEB Version will soon be available On Line.
DOWNLOAD CATALOGUE

Bead chains, more commonly known as toilet chains are also used in many ways for example military ID Tags and are made in different gauges from 1.0mm to 3.0mm. We make them in Gold and Sterling Silver with both smooth and diamond cut 8 side finishing. They are mainly supplied in continuous length or on spool but if needed can also be finished by one of our external suppliers with spring rings then silver plated and anti tarnished.

This is a very new chain made to compete with beads simply threaded onto an elastic or silicone thread. In this article the strong elastic band is part of the chain and is inserted into the tube which goes through the bead and is then crimped onto the chain directly. You can cut the continuous length chain where you like to make bracelets as desired and the elastic will not cut loose. Also the elastic is not visible and if broken will not fall apart like the ones threaded by hand. This chain is available smooth, diamond cut 8 sides or two tone diamond cut and charms can easily be attached to it. Gauges for now are 3 – 4 and 6mm's. Of course fire soldering cannot be used with this article.

This is a very popular group of hollow, stamped fold over chains, made in many different gauges and designs. In fact we can make the flat type or more similar to a popcorn shape. It is available in different materials like Gold and Sterling Silver and can be finished smooth, Diamond cut in continuous length or finished with an end cap and lobster clasp attached. We also have a super flexible model and one with a hole going through it, for threading.

The Tulip chain is new in the Faor Collection. It is very light because it is a hollow chain. We can produce it in two sizes for now: 3mm and 4mm. This chain is not diamond cut. It is a smooth chain and it is the only way we can supply it. However it does maintains a special elegance and brilliance even if not diamond cut. We make it in Gold and Sterling Silver. It is supplied in continuous length but if needed can also be finished with a lobster clasp attached.

The Cube is a novelty among the Faor chains. It is called 'Cube' because of its shape: many small cubes are attached to each other. The geometric shape is the main feature of this chain but it is also the reason of its lightness, originality and versatility. It comes in many gauges: 1.40mm, 1.60mm and 2.00mm, both smooth or diamond cut. The multiple row cube chain and the square shape cube chain are made from the Cube thanks to laser welding. They can be smooth or diamond cut. We make all these chains in gold and sterling silver.

Our Gold and Sterling Silver Real Snake Chain features round, highly flexible links which resemble a snake pattern. This Chain lays nicely on the neck and is great for use with Pendants as it creates a V shape and not a U shape as in the false solid snake chain or compact snake chain. It is made with the same system of links made out of stamped sheet, folded over and attached to one another. It comes in many gauges from 1.2mm to 3.0mm.

The Gold and Silver Squama Chain is a like a single foxtail link made in different gauges. It is also made from sheet and linked together without soldering. It can be made smooth, diamond cut, square or round.

The Gold or Sterling Silver Box Chain is one of the oldest and most popular Chain styles for pendants. It is made as a square linked chain that lies nicely around the neck when worn and does not "steal the scene" to the pendant attached. Our Box Chains come in various widths to fit a wide range of pendant sizes.

This is a new Mesh type of hollow, stamped chain, interwoven into many different gauges, shapes and designs. It is in fact available with a special spiral figure around it and in shapes like: round, half round, flat, concave and oval. It can be manufactured as usual in different materials like Gold and Sterling Silver and can be finished smooth, Diamond cut in continuous length or finished with a lobster clasp attached.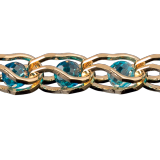 Crystal Chain is a dynamic product that can be modified and reinterpreted by our clients to suit their needs. This item is very original and consists of inserting a stone inside the links; the major characteristic is the flexibility of an item of this kind because it offers the possibility to replace the stone with diamond cut beads, use of different colors, shades, shapes ... so that original items can be created every time. Another peculiarity is the space inside the link that allows the stone to move and create a surprising sparkling effect.