Download here the 2022 FAOR Product Catalogue. The WEB Version will soon be available On Line.
DOWNLOAD CATALOGUE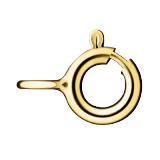 Spring Rings
Super Light Spring-Rings
Size/Width
Gold:

9 Kt, 10 Kt, 14 Kt, 18 Kt, 21 Kt, 22 Kt

Silver:

AG 925
Finding Specifications:
This golden spring ring is designed for use in jewelry products like bracelets and necklaces. The precise production procedure ensures long durability. Other jewelry findings are also available.
Easy to open.
Detailed construction.
Colour
: Yellow
Product Size
: 5mm
| Cod | AM040TL | AM045TL | AM050TL | AM055TL |
| --- | --- | --- | --- | --- |
| Size | Ø 4,0 | Ø 4,5 | Ø 5,0 | Ø 5,5 |
| 9Kt | 0,037 | 0,046 | 0,063 | 0,087 |
| 10 Kt | 0,040 | 0,050 | 0,068 | 0,094 |
| 14 Kt | 0,045 | 0,056 | 0,076 | 0,106 |
| 18 Kt | 0,051 | 0,062 | 0,085 | 0,118 |
| 21 Kt | 0,055 | 0,067 | 0,091 | 0,127 |
| 22 Kt | 0,055 | 0,068 | 0,092 | 0,128 |
| AG 925 | | | 0,053 | 0,074 |