Download here the 2022 FAOR Product Catalogue. The WEB Version will soon be available On Line.
DOWNLOAD CATALOGUE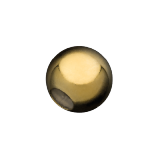 Silicone Findings
Round Stoppers
Size/Width
Gold:

14 Kt 18 Kt

Silver:

AG 925
Finding Specifications:
FAOR silicone bead is safe and reliable. It is a seamless, two hole bead with an inside core of silicone. The silicone positioned inside the bead allows the article to have the required stopper function and to smoothly slide the chain that passes through.
As each material, the silicone we use for this article must reflect some essential quality properties and respond to important health standards.For this reason, the silicone we use responds to the current rules for this type of product as well as to various fundamental certifications.
The versatility of this innovative product makes it unique and suitable for every occasion and for every piece of jewelry. It is in fact a hot item even by designers because thanks to this component they can create many different collections. The silicone bead can be adapted to every personal need helping to make a truly unique piece of jewelry. Two Hole Silicone bead is the simplest variant.
They can be produced in various sizes and in various colors, in gold and silver.
| Cod | PC2N03015/01 | PC2N04018/02 | PC2N04518/04 | PC2N05022/07 |
| --- | --- | --- | --- | --- |
| Size – ext | Ø 3,0 | Ø 4,0 | Ø 4,5 | Ø 5,0 |
| Size – hole | Ø 1,5 | Ø 1,8 | Ø 1,8 | Ø 2,2 |
| Size – int | Ø 0,1 | Ø 0,2 | Ø 0,4 | Ø 0,7 |
| 14 Kt | 0,070 | 0,150 | 0,215 | 0,253 |
| 18 Kt | 0,078 | 0,168 | 0,240 | 0,283 |
| AG 925 | 0,055 | 0,125 | 0,161 | 0,203 |
| Cod | PC2N06024/10 | PC2N08045/20 | PC2N10042/22 |
| --- | --- | --- | --- |
| Size – ext | Ø 6,0 | Ø 8,0 | Ø 10,0 |
| Size – hole | Ø 2,4 | Ø 4,5 | Ø 4,2 |
| Size – int | Ø 1,0 | Ø 2,0 | Ø 2,2 |
| 14 Kt | 0,402 | 0,812 | 1,812 |
| 18 Kt | 0,449 | 0,908 | 2,026 |
| AG 925 | 0,322 | 0,674 | 1,285 |
| Cod | Internal Ø for Chain/Wire |
| --- | --- |
| PC2N03015/01 | 0,2 > 0,4 mm |
| PC2N04018/02 | 0,5 > 0,6 mm |
| PC2N04518/04 | 0,7 > 0,9 mm |
| PC2N05022/07 | 1,0 > 1,2 mm |
| PC2N06024/10 | 1,3 > 1,6 mm |
| PC2N08045/20 | 1,7 > 2,2 mm |
| PC2N10042/22 | 2,3 > 3,0 mm |
| TCN05015/10 | 1,2 > 1,5 mm |
| TCN06032/21 | 1,6 > 1,9 mm |
| TCN08043/27 | 2,0 > 2,4 mm |
The internal measure of silicon element may vary for different bathces