Download here the 2022 FAOR Product Catalogue. The WEB Version will soon be available On Line.
DOWNLOAD CATALOGUE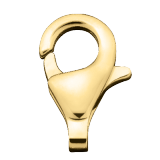 Lobster Clasps
Pear Shape Lobster Clasps
Size/Width
Gold:

9 Kt, 10 Kt, 14 Kt, 18 Kt, 21 Kt, 22 Kt

Silver:

AG 925
Finding Specifications:
Our Pear Shape Lobster Clasps are reliableand Easy to open. Each Clasps is tested before allowing them to be introduced into the market. They are designed for use in jewelry products like bracelets and necklaces.
Our Pear Shaped Clasps, actually have the form of half a Heart. In fact, if we put them next to each other with the latch side adjoining, it is easy to note that the outer line of the two Clasps do form a perfect Heart Shape. It is a quite particular form that is not the same for every Clasp manufacturer.
The Clasps do not have production limits and can be manufactured in gold and silver maintaining in all materials the same excellent quality and the same opening and closing functionality. Our Clasps can be produced in different sizes from 8 to 16mm
| Cod | CHP0 | CHP1 | CHP2 | CHP3 |
| --- | --- | --- | --- | --- |
| Size | 8,0x4,4 | 9,3x5,0 | 11,1x6,1 | 13,1x7,0 |
| 9Kt | 0,238 | 0,330 | 0,563 | 0,855 |
| 10 Kt | 0,257 | 0,357 | 0,608 | 0,923 |
| 14 Kt | 0,288 | 0,400 | 0,682 | 1,034 |
| 18 Kt | 0,322 | 0,447 | 0,762 | 1,156 |
| 21 Kt | 0,348 | 0,483 | 0,823 | 1,249 |
| 22 Kt | 0,350 | 0,487 | 0,829 | 1,126 |
| AG 925 | 0,201 | 0,284 | 0,495 | 0,753 |