Download here the 2022 FAOR Product Catalogue. The WEB Version will soon be available On Line.
DOWNLOAD CATALOGUE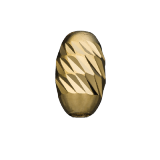 Diamond Cut Beads
D/Cut Oval Beads
Size/Width
Gold:

9 Kt, 10 Kt, 14 Kt, 18 Kt, 21 Kt, 22 Kt

Silver:

AG 925
Finding Specifications:
Brilliance and depth of the cut of Our Diamond Cut Oval Beads make it stand out. What makes a FAOR Diamond Cut so brilliant is the cut that the diamond tool makes on the surface of the oval while operating. More the cut is deeper and more the bead is shiny and bright.
Each Ovals is tested before allowing them to be introduced into the market. They are designed for use in jewelry products like bracelets and necklaces.
Each Ovals that we produce can be diamond cut with various designs: Slash, Moon Cut, Disco, Fishbone, Double S, Double X and XL
The Ovals do not have production limits and can be manufactured in gold and silver maintaining in all materials the same excellent quality.
| Cod | OD2N03012 | OD2N04013 |
| --- | --- | --- |
| Size - ext | 3,0x4,5 | 4,0x6,5 |
| Size – hole | Ø 1,2 | Ø 1,3 |
| 9 Kt | 0,072 | 0,142 |
| 10 Kt | 0,077 | 0,154 |
| 14 Kt | 0,087 | 0,172 |
| 18 Kt | 0,097 | 0,193 |
| 21 Kt | 0,105 | 0,208 |
| 22 Kt | 0,105 | 0,210 |
| AG 925 | 0,060 | 0,120 |