Download here the 2022 FAOR Product Catalogue. The WEB Version will soon be available On Line.
DOWNLOAD CATALOGUE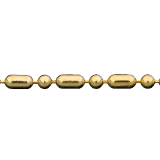 Bead Chains
Smooth Bead And Barrel Chain
Size/Width
Gold:

9 Kt, 10 Kt, 14 Kt, 18 Kt, 21 Kt, 22 Kt

Silver:

AG 925
Finding Specifications:
A slight variation to the classical bead chain with a series of beads one next to another is the article made with alternating one bead and one barrel shaped element on the same chain. A Barrel element is basically a sort of elongated bead, a small cylinder, that gives the chain a special sort of dynamism.
Each Smooth Bead And Barrel Chain is tested before allowing them to be introduced into the market. They are designed for use in jewelry products like bracelets and necklaces.
The Bead and Barrel Chain can be produced in four sizes: 1mm, 1.20mm, 1.50mm and 1.80mm. Also this article can be produced either smooth or diamond but only on 8 sides. Like most of FAOR articles it can be supplied in Gold and Silver and are usually provided by the meter on spools in order to preserve the quality during shipping.
| Cod | CPB10 | CPB12 | CPB15 | CPB18 |
| --- | --- | --- | --- | --- |
| Size | Ø 1,0 | Ø 1,2 | Ø 1,5 | Ø 1,8 |
| 9 Kt | 3,51 | 4,96 | 7,96 | 11,75 |
| 10 Kt | 3,79 | 5,35 | 8,60 | 12,69 |
| 14 Kt | 4,25 | 6,01 | 9,64 | 14,22 |
| 18 Kt | 4,75 | 6,71 | 10,77 | 15,89 |
| 21 Kt | 5,13 | 7,25 | 11.63 | 17,16 |
| 22 Kt | 5,17 | 7,30 | 11,72 | 17,30 |
| AG 925 | 2,96 | 4,18 | 6,71 | 9,90 |