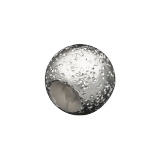 Silicone Findings
Starlight Stopper Beads
Size/Width
Gold:

14 Kt 18 Kt

Silver:

AG 925
Finding Specifications:
FAOR silicone beads can be produced smooth (in various sizes) but also with a colored starlight finishing in order giving the opportunity to our customers to be able to include these articles in their jewelry.
FAOR silicone bead is safe and reliable. It is a seamless, bead with an inside core of silicone. The silicone positioned inside the bead allows the article to have the required stopper function and to smoothly slide the chain that passes through.
As each material, the silicone we use for this article must reflect some essential quality properties and respond to important health standards.For this reason, the silicone we use responds to the current rules for this type of product as well as to various fundamental certifications.
They can be produced in various sizes and in various colors, in gold and silver.
| Cod | PC2N06024/10MG | PC2N08045/20MG | PC2N10042/22MG |
| --- | --- | --- | --- |
| Size – ext | Ø 6,0 | Ø 8,0 | Ø 10,0 |
| Size – hole | Ø 2,4 | Ø 4,5 | Ø 4,2 |
| AG 925 | 0,320 | 0,660 | 1,270 |
All Sliding Beads can be supplied with Soldered Ring -S