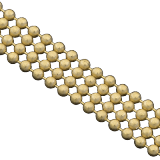 Bead Chains
Multiple Row Bead Chain
Size/Width
Gold:

14 Kt, 18 Kt

Silver:

AG 925
Finding Specifications:
The Multiple row Bead Chains has emerged strongly in the world of jewelry design and expresses itself as a strong, determined and demanding article. An aspect that reflects the soul of today's woman; a delicate, elegant, refined and simple person that believes in herself and in all her complexity.
Due to a constant and growing demand for this type of chain our designers managed to develop some new products using the single row bead chain. Thanks to a series of new laser welding machines we were able to weld together more than one row of bead chains thus creating multiple chain segments. Using this system of laser welding we have created this chain in 2, 4, 6 lines and have now managed to reach up to 8 lines.
Each Multiple Row Bead Chain is tested before allowing them to be introduced into the market. This article is directed to the creation of a much sought-after product, that has brought enormous innovation in the classic view of this kind of chain.
The Multiple Row Bead Chain can be produced in four sizes: 1mm, 1.20mm and 1.50mm. Like most of FAOR articles it can be supplied in Gold and Silver and are usually provided by the meter on spools in order to preserve the quality during shipping.
| Cod | CPA102X | CPA104X | CPA106X | CPA108X | CPA10QU | CPA10TO6X | CPA10TO8X |
| --- | --- | --- | --- | --- | --- | --- | --- |
| Size | Ø 1,0 | Ø 1,0 | Ø 1,0 | Ø 1,0 | Ø 1,0 | Ø 1,0 | Ø 1,0 |
| 14 Kt | 7,94 | 15,88 | 23,81 | 31,75 | 15,87 | 23,81 | 31,75 |
| 18 Kt | 8,87 | 17,74 | 26,62 | 35,49 | 17,74 | 26,62 | 35,49 |
| AG 925 | 5,52 | 11,04 | 16,56 | 22,08 | 11,04 | 16,56 | 22,08 |
| Cod | CPA122X | CPA124X | CPA126X | CPA128X | CPA12QU | CPA12TO6X | CPA12TO8X |
| --- | --- | --- | --- | --- | --- | --- | --- |
| Size | Ø 1,2 | Ø 1,2 | Ø 1,2 | Ø 1,2 | Ø 1,2 | Ø 1,2 | Ø 1,2 |
| 14 Kt | 11,97 | 23,94 | 35,91 | 47,88 | 23,94 | 35,91 | 47,88 |
| 18 Kt | 13,38 | 26,76 | 40,14 | 53,52 | 26,76 | 40,14 | 53,52 |
| AG 925 | 7,90 | 15,80 | 23,70 | 31,60 | 15,80 | 23,70 | 31,60 |
| Cod | CPA152X | CPA154X | CPA156X | CPA158X | CPA15QU | CPA15TO6X | CPA15TO8X |
| --- | --- | --- | --- | --- | --- | --- | --- |
| Size | Ø 1,5 | Ø 1,5 | Ø 1,5 | Ø 1,5 | Ø 1,5 | Ø 1,5 | Ø 1,5 |
| 14 Kt | 13,01 | 26,02 | 39,03 | 52,04 | 26,02 | 39,03 | 52,04 |
| 18 Kt | 14,54 | 29,09 | 43,63 | 58,17 | 29,09 | 43,63 | 58,17 |
| AG 925 | 12,18 | 24,36 | 36,54 | 48,72 | 24,36 | 36,54 | 48,72 |